On SRX CLI, you can also manage AX411 Wireless Access Point. Configuration isn't very difficult but if you don't have prior experience it may look like a bit cumbersome. Below I will try to show how you can configure one of these access points if you ave just got one of these devices. This post only covers Layer 2 mode setup. First of all I assume you have a branch SRX which has POE capabilities. I think the smallest one is SRX210 for this task. In my lab, I am connecting AX411 device to ge-0/0/1 interface of my SRX220 device.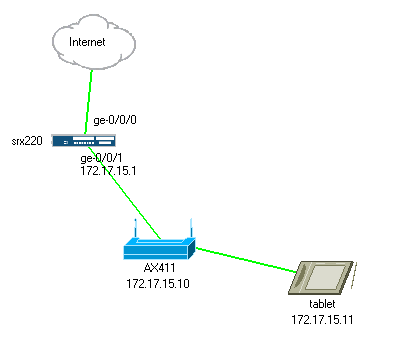 First I make sure only this interface is POE enabled i.e disabling others
#set poe interface all disable

#set poe interface ge-0/0/1
We can see that only ge-0/0/1 is providing power after this config.
root

@

srx220

>

show

poe

interface

Interface

Admin

status

Oper

status

Max

power

Priority

Power

consumption

Class

ge

-

0

/

0

/

0

Disabled

Disabled

15.4W

Low

0.0W

0

ge

-

0

/

0

/

1

Enabled

Powered

-

up

15.4W

Low

7.1W

3

ge

-

0

/

0

/

2

Disabled

Disabled

15.4W

Low

0.0W

0

ge

-

0

/

0

/

3

Disabled

Disabled

15.4W

Low

0.0W

0

ge

-

0

/

0

/

4

Disabled

Disabled

15.4W

Low

0.0W

0

ge

-

0

/

0

/

5

Disabled

Disabled

15.4W

Low

0.0W

0

ge

-

0

/

0

/

6

Disabled

Disabled

15.4W

Low

0.0W

0

ge

-

0

/

0

/

7

Disabled

Disabled

15.4W

Low

0.0W

0