Internet isn't perfect and we may have link failures from time to time. How do we react to these failures? Manually or we have an automatic way. I would like to show on this post how Junos can take action upon an upstream gateway reachability issue and how SRX flow behaves in such a scenario. To achieve this task we will use a handful of features currently available on an SRX box. Before getting started, check my test topology below in order to understand this post. It is a simulated Internet environment with some fake public IP addresses. BranchC is our client side SRX device and we have two connected PCs and we will do every config magic on this BranchC device.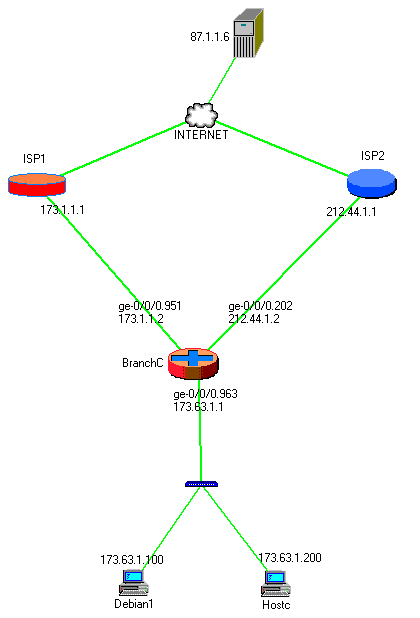 Test Plan
1) Create two routing instances for each ISP & cross import the routes between these two instances
2) Forward Debian1 traffic to ISP1 and HostC traffic to ISP2 by using Filter Based Forwarding
3) Monitor each ISP by using RPM (Real Time Performance Monitoring) feature
4) Test the ideal condition traffic flow
5) If any ISP link fails, failover the default route to the other ISP by using ip monitoring feature
6) Analyse the effects of this failover on established TCP/UDP traffic
Now we will go step by step and complete each task.